eBook: The Foundation of a Disciple Making Culture
"Every year, pastors and disciple making leaders all over the world attempt to build a disciple making culture… They read a book, select a curriculum, and get to work," says Gravitt. "It's not a bad thing to do, but typically, the results are disappointing: short-term momentum followed by the slow descent back to what had been."
In this FREE eBook, you'll be challenged by:
The Impact of Foundation-less Disciple Making in the Church
The Importance of a Leader's Motivation in disciple making and its impact on how the foundation is built
The Four Key Aspects of a CORE Team
Step-by-Step Instructions on How to Start and Build a CORE Team
Key Insights for How to Overcome Common Obstacles in Building a CORE Team
Justin's new book is written as a detailed resource for how to build a disciple making foundation. If you are a pastor, or a church, or disciple making leader, this book will equip and encourage you to build a disciple making foundation that will stand the test of time!
This eBook is published by Discipleship.org in cooperation with Navigators Church Ministries and by downloading it you agree to receive email newsletters from both organizations. 
Enter your information now to get the e-book!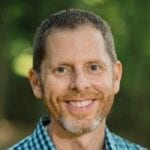 Justin Gravitt has devoted his life to sharing Jesus with the world by making generations of disciple makers. His primary passion is to help everyday disciples repurpose their lives in light of God's plan for them to be disciple makers. Justin has served for over twenty years with The Navigators; on the college campus, as a missionary in SE Asia, and now with pastors and church leaders. He is currently the executive director for the Dayton Disciple Makers Network and hosts The Practitioners' Podcast. Justin lives in Dayton, Ohio, with his wife and four children. You can learn more at justingravitt.com.